Motherhood is hard! The sleepless nights, breastfeeding troubles, tantrums, and everything that falls under the "Motherhood Load" umbrella all take a toll.
We all have our struggles!! My son is currently four and a half years old and my daughter is one year old. On a daily basis I struggle to get one or the other to eat properly, feel like I'm being pulled in opposite directions when I'm trying to get work done and also manage my home, and feel guilty over not being attentive enough to each kid.
Recently, I learned that 36% of U.S. families struggle to provide enough clean diapers for their young children. Hearing that hit home for me and gave me perspective. Whatever my daily challenges are, I have never worried about having a clean diaper to put on my baby. Learning about this statistic made me more appreciative of being able to meet my family's needs, while also driving me to help families who can't afford basics such as diapers.
My goal has always been to use this platform to help improve the lives of as many parents as possible. I'm thrilled to partner with Huggies to share an easy way to help parents who struggle to afford diapers and also inspire gratitude in all parents.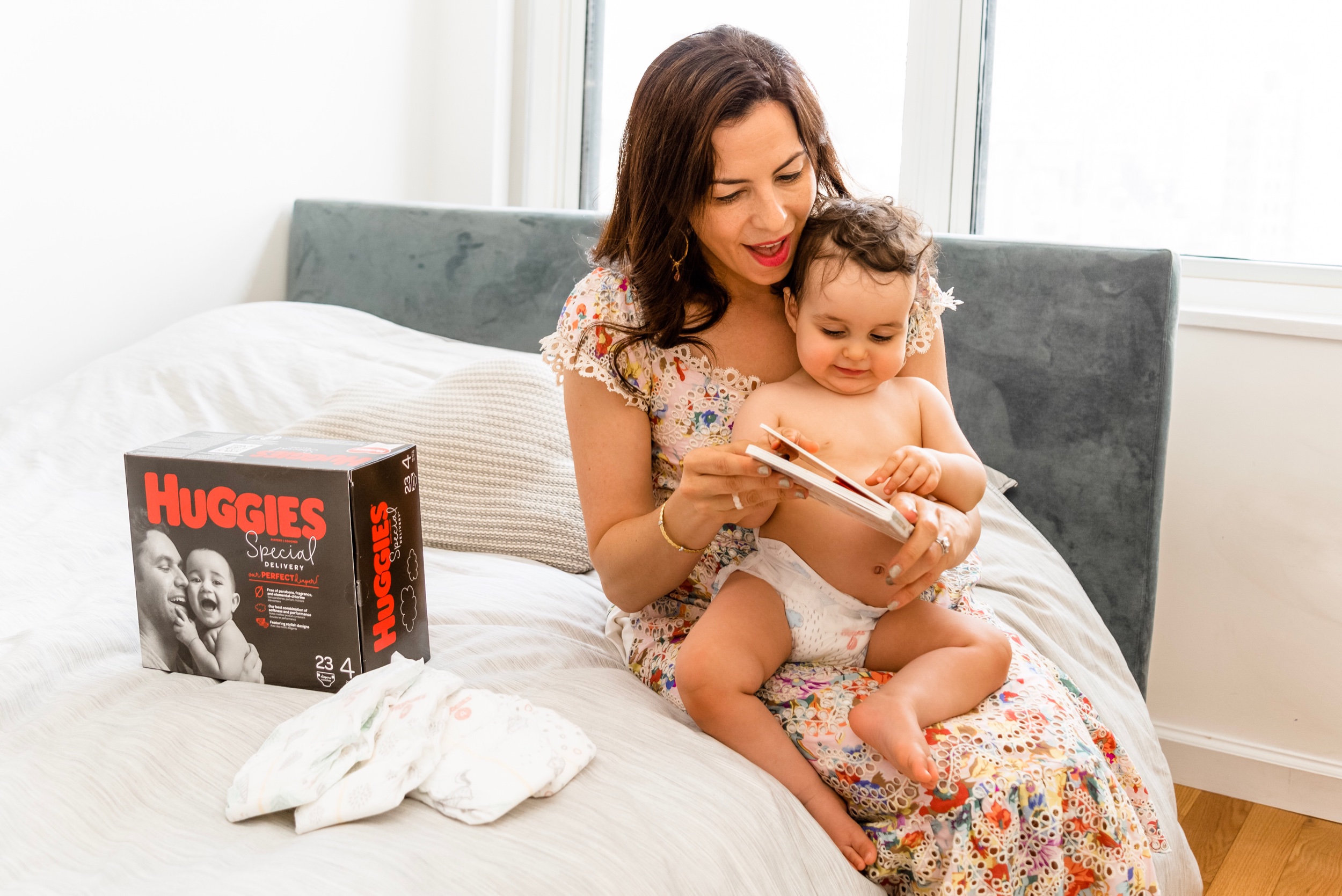 An easy way to help parents struggling with diaper need
When you purchase Huggies diapers at a ShopRite store or Shoprite.com from now until September 28, 2019, Huggies will donate a day's worth of diapers to National Diaper Bank Network partners in the New Jersey and Connecticut area.
Huggies is a founding sponsor of the National Diaper Bank Network. Through its ongoing support of the organization, it has donated over 225 million diapers and baby wipes and will donate up to 500,000 diapers as part of the current initiative with ShopRite.
I'm looking forward to visiting a local food bank in New Jersey to support the donation during Diaper Need Awareness Week and will cover it in my Instagram stories. Be sure to tune in!
How gratitude and giving back can help mothers cope with parenting stress
I've always had an interest in psychology (it was my major in college). Over the years, I've read countless articles on simple ways to improve mental health and satisfaction in life. Two that come up a lot are gratitude and giving back. Gratitude not only increases happiness and satisfaction, but also inspires us to give back. Giving back, in turn, can reduce our negative reactions to stress and improves overall mental health. So, if you're feeling stressed, take a moment to recognize the good in your life and think of a way to support someone else. It won't stop a tantrum but may help you to handle it better.
I shared one easy way to help parents in need above. I also want to inspire others to feel grateful during other challenging parenting moments.
Gratitude inspiration
I am grateful to my own mother who worked a challenging executive job to be able to provide for my five siblings and me. I'm also grateful that after years of unpredictable hours as a law firm corporate attorney, I've found a flexible way to earn a livelihood while helping others and maintaining more control over my schedule.
I polled the moms of young children in one of my Facebook groups about what makes them feel grateful. I did this both to prompt their gratitude and also to share their responses and help trigger gratitude for others.
I asked them to share something (or someone) for whom they are grateful as a parent of a young child. Here are some of their responses:
I am beyond grateful for the friends/family that helped me cope with mental health after pregnancy.

I am grateful for friends and family who helped when I had awful anxiety and depression while pregnant. And also unbelievably grateful to have health insurance that allowed me to have health care workers who kept me safe and healthy during pregnancy and delivery; without it I would likely had serious complications due to preeclampsia.

I am grateful for mom friends who are walking beside me in this incredible and special journey.

I am grateful for my mom and mother-in-law who watch the baby while we work.

I am grateful that my Dad enjoys buying his granddaughter formula and clothes every time he goes to Costco.

That me and my husband work to provide for our daughter whether that be swim lessons or food.

I am grateful for my husband and his support in many aspects. But mostly for being able to stay home with my babies.

Grateful for MY VILLAGE! As a full-time working mom, my husband bears the brunt of housework and cooking, my parents and in-law's help with part-time babysitting, my nanny has been very accommodating, and my mom tribe gives me support and advice for every twist and turn. Parenting is made much easier with each bit thanks to this village.

I am so grateful for some of the caring doctors and staff at Lenox Hill who took care of me after almost dying from preeclampsia and simultaneously having a cancer scare during my stay there. I have never felt more cared about.
When you're having an off day or a trying moment, take a deep breath, think about the positive in your life and try to find a small way to help another! Feeling grateful and doing good can help put things in perspective and ease your reaction to the stress of parenthood!
Compensation for this article was provided by Huggies and ShopRite. The opinions expressed herein are those of the author and are not indicative of the opinions of Huggies or ShopRite.